Visit Pregnancy Planner for Pregnancy Journals, Keepsakes And Organizers. Record personal dates, notes, photos, fetal movements, shopping lists, weight gain, etc.
So you've discovered you're pregnant? Congratulations! Being observant through your own different stages of pregnancy development means that you can also be in touch with your unborn baby, staying in tune every step of the way, even knowing when their first heartbeat begins.
This leads to a healthy pregnancy in which the bonding process begins early on as you both develop, change and grow over the coming months. You have just embarked on what I believe to be one of life's most fascinating and remarkable journeys ever.


Your baby, too, will be very much in-tune and dependant on you as well. Her vital organs will all be in place in the early weeks when she is still just the size of a kidney bean and around 22 weeks will already be able to sense light and hear noise.
By the time she is born she will be able to recognize certain pieces of music as well as your voice which will be very calming in the early stages of life.
Pregnancy is a most joyous, spiritual and life-changing time for many women and a time to care, love and pamper yourself more so than ever.
You can follow through your own stages of pregnancy development week to week, from identifying the right through to the birth, enabling you to get a better understanding of the journey both you and your baby are undertaking.
Baby's Progress
………..

Mother's Progress

Pregnancy Week 1…………………………1 Week Pregnant
Pregnancy Week 2…………………………2 Weeks Pregnant
Pregnancy Week 3…………………………3 Weeks Pregnant
Pregnancy Week 4…………………………4 Weeks Pregnant
Pregnancy Week 5…………………………5 Weeks Pregnant
Pregnancy Week 6…………………………6 Weeks Pregnant
Pregnancy Week 7…………………………7 Weeks Pregnant
Pregnancy Week 8…………………………8 Weeks Pregnant
Pregnancy Week 9…………………………9 Weeks Pregnant
Pregnancy Week 10…………………………10 Weeks Pregnant
Pregnancy Week 11…………………………11 Weeks Pregnant
Pregnancy Week 12…………………………12 Weeks Pregnant
Pregnancy Week 13…………………………13 Weeks Pregnant
Pregnancy Week 14…………………………14 Weeks Pregnant
Pregnancy Week 15…………………………15 Weeks Pregnant
Pregnancy Week 16…………………………16 Weeks Pregnant
Pregnancy Week 17…………………………17 Weeks Pregnant
Pregnancy Week 18…………………………18 Weeks Pregnant
Pregnancy Week 19…………………………19 Weeks Pregnant
Pregnancy Week 20…………………………20 Weeks Pregnant
Pregnancy Week 21…………………………21 Weeks Pregnant
Pregnancy Week 22…………………………22 Weeks Pregnant
Pregnancy Week 23…………………………23 Weeks Pregnant
Pregnancy Week 24…………………………24 Weeks Pregnant
Pregnancy Week 25…………………………25 Weeks Pregnant
Pregnancy Week 26…………………………26 Weeks Pregnant
Pregnancy Week 27…………………………27 Weeks Pregnant
Pregnancy Week 28…………………………28 Weeks Pregnant
Pregnancy Week 29…………………………29 Weeks Pregnant
Pregnancy Week 30…………………………30 Weeks Pregnant
Pregnancy Week 31…………………………31 Weeks Pregnant
Pregnancy Week 32…………………………32 Weeks Pregnant
Pregnancy Week 33…………………………33 Weeks Pregnant
Pregnancy Week 34…………………………34 Weeks Pregnant
Pregnancy Week 35…………………………35 Weeks Pregnant
Pregnancy Week 36…………………………36 Weeks Pregnant
Pregnancy Week 37…………………………37 Weeks Pregnant
Pregnancy Week 38…………………………38 Weeks Pregnant
Pregnancy Week 39…………………………39 Weeks Pregnant
Pregnancy Week 40…………………………40 Weeks Pregnant



Here at Baby Store USA you can find a wide range of selected baby clothing, baby toys, baby furniture and much more baby stuff at competitive prices. Simply click on the images below to be taken to a selection of thousands of baby products ranging from newborns through to toddler age.



…….Baby Care……….Feeding………….Bouncers……….Clothing…….


…….Carriers……….Car Seats………….Bedding……. … Furniture……



…….Strollers……….Monitors………….Mobiles…..   …..Baby Gyms…….




…….Rattles……………Toys……………….Potties…………..Diapering…..
Offering a wide selection of maternity wear from dresses, skirts, pants, suits, intimates and much more at competitive prices, as well as pregnancy related products. Simply click on any of the images below to see thousands of products suitable for expectant mothers.




..Active Wear ……….. Coats ………….. Dresses ………….. Jeans…….





Night Wear ……. Trousers ………… Shorts ………….. Skirts…….



……Suits …………. Sweaters ………….. Tops ………….. Swim Wear…….

……..Hosiery ……… Intimates ………… Pillows ………….. Support…….




..TENS Machine …. Keepsakes …………. Gifts ………….. Cameras…….
Britax Convertible Car Seat, Onyx
–Britax convertible car seat is rear facing from 5 to 40 pounds and forward facing from 1 year and 20 lbs up to 70 pounds.
-SafeCells designed to compress in a crash, significantly lowering the center of gravity and counteracting the forward rotation of the child seat.
-Integrated Steel Bars strengthen the connection to the vehicle and reduce forward flexing of the child seat during a crash.
-Quick-Adjust Harness repositions the harness shoulder height without disassembling the harness straps.
-Built-in Lock-Offs ensure a snug lap and shoulder belt installation with minimal effort.
-Side Impact Protection comprised of deep side walls lined with energy-absorbing EPP foam distributes crash forces.
-Patented, Energy-Absorbing Versa-Tether features a staged-release tether webbing to slow the forward movement.
-Two-point attachment to minimize forward rotation while anchoring the top of the child seat.
-Premium Lower Latch Connectors for a quick and simple installation featuring a push button for easy release.
-Infant Positioning Insert may be necessary for small infants to achieve a snug fit of the harness around your child (sold separately).
-No assembly required. Marathon Convertible Car Seat achieves optimum head safety through the combination of BRITAX SafeCell Technology, integrated steel bars, and a Versa-Tether, which work together to minimize head excursion and reduce the risk of head injury during a frontal impact.
It also features easy installation, Side Impact Protection, and innovative details for your child's comfort and safety. The seat fits children in the rear-facing position weighing from 5 to 40 pounds, and children in the forward-facing position starting at one year old and 20 pounds, up to 70 pounds.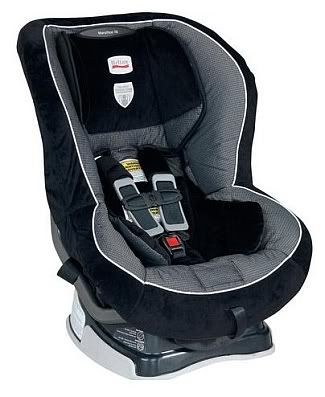 The Marathon 70 Britax convertible car seat is designed for children rear facing from 5 to 40 pounds and forward facing up to 70 pounds
Safecell technology features safecells designed to compress in a crash, significantly lowering the center of gravity and counteracting the forward rotation of the child seat which normally propels child toward the front seat
Integrated Steel Bars strengthen the connection to the vehicle and reduce forward flexing of the child seat during a crash
Side Impact Protection comprised of deep side walls lined with energy-absorbing EPP foam distributes crash forces, shields from vehicle intrusion and contains the head, neck and body
Quick-adjust harness repositions the harness shoulder height without disassembling the harness straps
BRITAX convertible car seat 360 Degree Protection
The MARATHON 70 BRITAX convertible car seat features technologies that work to minimize injury to your child during a crash from any direction, including both frontal and side impact crashes – the most frequent types of crashes. These technologies work together with other features on the car seat to minimize injury to your child during a crash by:
keeping your child in the vehicle,
diverting crash forces away from your child,
helping to slow down your child's body,
minimizing movement of your child, and
protecting your child's brain and spinal cord.
SafeCell Technology for Advanced Head Safety
Designed with SafeCell Technology, the MARATHON 70 features SafeCells, which are engineered structures located in the base of the seat designed to compress in the event of a crash. This compression significantly lowers the center of gravity and counteracts the forward rotation of the car seat, delivering unprecedented performance in a crash.
The Britax convertible car seat also features integrated steel bars, which strengthen the connection to the vehicle seat and reduce the forward flexing of the car seat. In addition, the energy-absorbing Versa-Tether anchors the top of the car seat and minimizes forward rotation of the car seat to reduce the crash forces that can reach your child if an accident occurs. These three features work together as a system to provide revolutionary head safety protection for your child.
Side Impact Protection for Added Security
To keep your child safe in the event of a side-impact collision, the MARATHON 70 Britax convertible car seat includes Side Impact Protection. Side Impact Protection is a system composed of a rigid seat shell with deep side walls and energy-absorbing EPP (Expanded Polypropylene) foam lining the seat shell. These combined features work together to protect your child's head and chest from incoming crash forces by distributing the forces over a larger surface area, helping shield your child from vehicle intrusion and contain your child's head and body in the seat.
Premium Fit and Comfort Features
Whether children are watching the world go by or snuggling in for a nap, they'll enjoy that the MARATHON 70 reclines in both the forward and rear positions. And thanks to additional features, which include high-density comfort foam and a plush cover set with a matching belly pad, they'll always ride in style and comfort. A 70-pound weight capacity, two buckle positions, and a tangle-free five-point harness with ten harness-height settings provide a snug, custom fit for your growing child. Plus, an optional Infant Positioning Insert (sold separately) allows you to properly and snugly fit smaller infants into the car seat.
Ease-of-Use for Safety and Convenience
Packed with perks for parents, the Britax convertible car seat makes it easy to secure your child in the proper position without guesswork. Premium lower LATCH connectors make for a quick, simple, and tight installation, while the push-button allows you to easily uninstall the connectors. Easy-to-access built-in lock-offs allow you to install the car seat with ease using your vehicle's lap and shoulder belt. The quick-adjust harness system and buckle allow you to reposition the harness height without disassembling the harness straps.
Additionally, an anti-slip contoured base grips and protects the vehicle seat, ensuring a tight installation in all types of vehicles. Convenient holders keep harness straps out of the way when you're placing your child in the seat, and the plush cover set with matching pads removes easily for cleaning without requiring you to disassemble or uninstall the car seat.
The MARATHON 70 BRITAX Convertible Car Seat is backed by a one-year limited warranty.
What's in the Box
One MARATHON 70 BRITAX Convertible Car Seat and manual.

Marathon 70 Britax Convertible Car Seat Reviews
Kristen Stewart



Another Great Britax Convertible Car Seat!
We've been using Britax's older style Marathons for five years so I was anxious to try this latest manifestation to see how it stacked up. It is larger, but it now fits children up to 70 lbs forward facing (and 5-40 rear facing) and still fits easily in our Honda Odyssey and forward facing in our small VW Golf. Like the older Britax models, the new Marathon is often outgrown by height, rather than weight. I sat both of our children in it and found the difference to be slight, if any, over the old model, so if you are in the market for a new seat for child outgrowing the shell, this is probably not the best choice.
The legendary Britax quality continues with a solid, intuitive build. Some of the newer head protecting technology from other, more expensive Britax seats has been integrated. The new harness adjuster is amazing, making it so simple and easy to change the height of the straps. We often carpool and I'm glad I can quickly and easily customize the seat to every child.
The Britax convertible car seat is always soft and comfortable for riders, so much so that my children notice the difference when they ride in other seats! My four year old gave this her seal of approval comfort-wise, declaring the new design even better than her old one.
There are new spots to store latch clips when they are not in use that I love, most every change is a great improvement with the exception of the locking mechanisms for using a seat belt. They are MUCH harder to use than they were on the older model Marathons. I assume that they are also safer, but I had such a hard time with it, I could imagine parents using it incorrectly.
The instructions are clear and easy to follow, but take advantage of seat checks in your area to make sure you install it correctly and as secure as it can be. Britax is an industry leader in safety and innovation, and I am glad my girls (at 4.5 and 6) are still riding safely in 5 point harnesses and protected by their Britax convertible car seat in the event of a crash.
Jesse Baynard



A converted skeptic
Overall I feel that all car seats properly installed provide an extraordinary level of protection that we never had as children. So I have bought all sorts of car seats between 2 kids and 2 cars from snap-in travel systems to boosters, and from economy models to plush models. This is what I found that separates them convenience and materials.
The seats that cost less than $100 usually have little padding and are made from just enough plastic and foam as necessary. Pretty much all the adjustments are manual from shoulder height to anchor clips to strap length. The nice thing other than the price is that they are usually dead simple to install and very light.
The seats that cost more than $100 but less than $200 are usually very well padded and come with a lot of conveniences such as reclining, cup holders, mechanical strap adjustments, extra weight maximums. They're still usually plastic and foam, but a lot more of it. I do find that they can also be more difficult to work with, because with all their conveniences and padding the rare mechanical adjustments (installation and shoulder adjustments) are harder to perform.
Now once we get over $200 we find ourselves in Britax Marathon 70 country… This is a very well appointed car seat in terms of comfortable padding, conveniences, and materials. You notice it's different once you see the steel beams supporting it, then as you use it and find the shoulder height can be adjusted without rethreading while installed (which is also a breeze), and that the recline doesn't require great force, and that there's Velcro to hold the straps back if you want it to and many other small touches… it's easy to start falling in love.
Okay but that just brings me back to… Are we just buying the convenience or is there really something better about these seats? Well perhaps it's all really good marketing, but I now feel that this construction and these more rigid (yet designed to yield appropriately) materials are providing better safety and that the fact that you do not need to uninstall it to make adjustments also lowers the chance for a bad reinstall. So yes, I think that once you pass the $200 mark you actually can buy a safer seat.
Karen in Mommyland



Another great seat from Britax
Since 2001 I've been hooked on the Britax convertible car seat. The quality and ease of use of their seats puts them above their competition. When I was presented with the opportunity to review the Britax Marathon 70, I jumped at the chance.
We own a Marathon Britax convertible car seat that accommodates a child from 5 to 65 pounds, so it was nice to sit the two seats side by side for comparison purposes. The first notable difference is the Marathon 70 is a larger seat. The seat belt lock offs are designed differently (I think they're more cumbersome than the easy to use lock offs found on the Britax Marathon and Roundabout seats). The harness adjustor strap's release mechanism works differently.
Instead of pressing down, you need to press up. After nearly 9 years of dealing with seats that had easier releases, I found this to be a tad awkward. Harness height adjustment on the Marathon 70 Britax convertible car seat is a snap compared to the seats where you need to rethread the harness. You simply have to squeeze and pull (or push) to adjust the height of the harness straps. The ease of use for this function is on par with the simple adjustment of the back on a Graco TurboBooster.
The Marathon 70 Britax convertible car seat also boast some nice little touches that weren't found on the old Marathon. There is now a place to snap the latch clips to the back of the seat when not in use. Parents who travel frequently and find themselves lugging their child seat through airports will appreciate the added touch of an area to clip the versa tether strap to be used as a carry handle.
Installation of this seat was a snap. I installed it both rear and forward facing in my Toyota Sienna and it was easily and securely installed in both positions. Because the seat is so large, it is possible that this seat may not fit well in smaller cars when used in the rear facing position.
Overall, this is a great quality seat that will keep your little one safe, comfortable and secure for many years. In the nearly nine years that I've been using Britax seats, I have found each of them to be worth the price.
Chicco Infant Car Seat, Keyfit 30
Chicco Infant Car Seat and Base It's very rare to find an infant car seat and base which work together so greatly to make the entire installation process easier.
The KeyFit Chicco Infant Car Seat and Base works so well together that it is very different than other car seats. Other car seats don't install half as easily as the Chicco. The KeyFit is a baby car seat which is also affordably priced to not bust wallets. The KeyFit can fit a range of child form 4-30 pounds.

Secures baby from 4 to 30-pounds
Removable newborn insert for smaller babies, Thickly cushioned seat pad and five-point harness for maximum comfort
Spring-assisted level foot, bubble levels, and "Center-Pull" adjustment for easiest installation
Energy-absorbing foam for improved side-impact protection
Compatible with the Chicco Ct. 0.1, Cortina, Trevi and S3 strollers

.



Chicco Infant Car Seat Ketfit 30 Reviews
D. Hardaway "dhardawa"



Please ignore the one star review
Please ignore the reviewer who rated the seat one star due to the rebound issue. I am a certified child passenger safety technician and this is NOT a safety concern. Almost all rear facing seats will rebound in a crash. The only ones that won't are infant seats with rigid LATCH (the only one currently available in the US is the Baby Trend Latch-Loc with rigid LATCH) or one with an anti-rebound bar like the Britax Companion and convertible seats that tether rear facing (all Britax convertible seats, Sunshine Kids Radian, etc).
As long as your seat moves less than an inch in any direction AT THE BELT PATH (i.e. on an infant seat with a base, right at the seat crack where the other poster said it was tight) it is safe. The Chicco Infant Car Seat KeyFit is a very good seat. It is without a doubt one of the best on the market currently. It installs like a dream and fits small babies very well. As a tech of seven years, I would not hesitate to recommend this seat or use it for my own child.
K. Hanson



Stylish and Safe
This Chicco infant car seat is great. As stated in the description, you're able to keep your baby in a much safer rear-facing position for a longer period of time. In the event of a crash, what this means is that your baby's body won't take the brunt of the impact, the seat will do most of the work.
Originally, I was considering more flashy and expensive European car seats, but then I spoke with my neighbor. Part of her responsibilities in working for our local police force involves helping parents properly install their car seats. She let me know that many of the infant car seats on the market aren't worth the hype, but she highly recommended the Chicco Infant Car Seat Keyfit 30 for the reasons I stated in the paragraph above.
Indeed she was right. Not only is this clearly very well constructed, including neat details such as bubble levels on the base, but it's also stylish and functional as well. Most importantly, it's a snap to install… PROPERLY! And that's a feature not many other car seats can boast.